(ENG) Statement by Presidents Donald J. Trump and Mario Abdo Benítez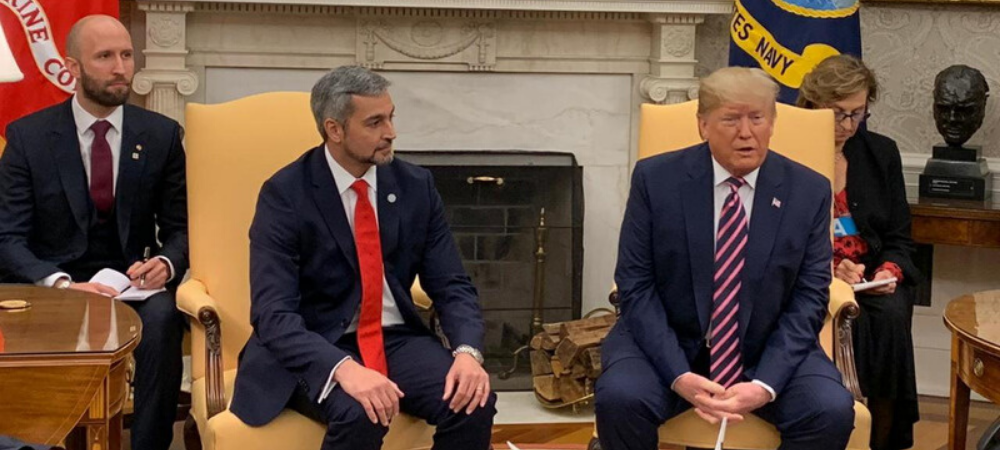 Yesterday, President Donald J. Trump and President Mario Abdo Benítez have pledged to deepen the relationship between the two countries. Both leaders focused on increasing economic prosperity, strengthening democracy and the rule of law.

President Trump and President Abdo Benítez reiterated the support of the United States and Paraguay for democracies in the region, including the interim President of Venezuela, Juan Guaidó, the democratically elected National Assembly, and the Venezuelan people in their eagerness to restore the constitutional order in Venezuela. The two leaders also agreed to support the efforts of the interim President of Bolivia, Jeanine Áñez, to hold free and fair elections.

The two leaders agreed to deepen robust cooperation in defense and security. President Abdo Benítez emphasized the need for Paraguay to have assistance to reform the National Police and the prison system. President Trump announced that the United States will offer two events of the Combined Exchange Program of Special Forces Training in Paraguay in 2020 and 2021, and that the United States Southern Command will execute a joint response exercise to regional crises in Paraguay in the 2021. The United States will provide financing for International Military and Educational Training to Paraguay.

President Trump and President Abdo Benítez spoke about other areas in which the United States supports the rule of law in Paraguay, for example, through the Office of Technical Assistance (OTA) of the Department of Treasure. The OTA works with the Ministry of Finance and the Central Bank of Paraguay to strengthen the efficient and transparent administration of government finances and to develop more robust financial markets that support investments and economic growth.

President Trump announced that, after being launched, the United States Financial Corporation for International Development (DFC) will seek to finance the Jeroviá Monte Sinai Medical Center, an internationally accredited tertiary medical center with 240 beds in Asunción, Paraguay. The DFC will work with the Inter-American Development Bank (IDB) to finance the project and with Taiwan to provide technical assistance.

Both leaders ratified continuing to work in the framework of the Trade and Investment Framework Agreement to promote investments in Paraguay and increase bilateral trade. To this end, President Abdo Benítez reaffirmed his will to continue strengthening the protection of intellectual property in Paraguay.

The regulatory authorities of the United States Department of Agriculture are working closely with the regulatory authority of Paraguay. The United States hopes to open access to the market for meat and meat products once food security and animal health are guaranteed.

The two leaders highlighted the historical links between the Paraguayan people and the United States, including the role of President Rutherford B. Hayes in maintaining the Paraguayan territory at the end of the nineteenth century, and confirmed their desire to continue building a strong friendship between the two countries.